School of Art Fashion 2011
Debbie Glenn Pre-Day Classes
Monday: Victorian Stencil Shell
(6hrs, Machine, Advanced)
*Prior appliqué experience helpful.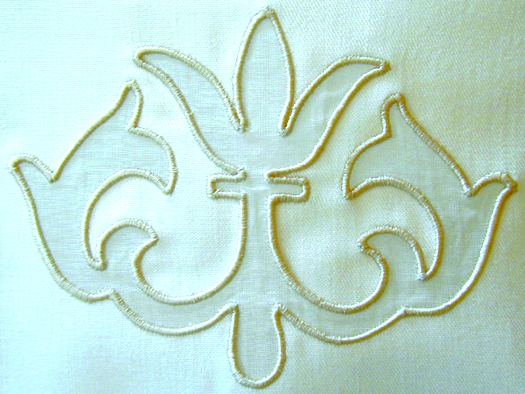 Some of the most attractive designs popular during the Victorian era were bold, simple stencil patterns. These ornamental borders offer unlimited possibilities for garment embellishment. My interpretation of a Victorian stencil is shown on a silk broadcloth shell. The tone-on-tone Australian windowpane insert of organdy offers a timeless, classic look.
In Australian windowpane sheer fabric inserts fill cut outs adding texture, color, and elegance to a motif. These fabric windows, which replace traditional cutwork bars, can also be used to stabilize an entire motif. Let Debbie introduce you to this versatile technique which is applicable to so many projects, from collars, bodices and skirts, to tea towel, pillows and window shades.
Technique: Australian Windowpane (design placement, transfer, preparation including stabilizers, stitching & sealants, cutting order, stitching including pivot points, plus the addition of optional padding using gimp)
Tuesday-Wed: Pocket Pets Diaper Set
(12 hrs, Fine Machine Sewing, Intermediate)
While the adorable animal pockets are sure to captivate tiny tots, that's just one of the details making this classic set special. Bias gingham rouleau trims the shaped yoke (which has room for a touch of hand embroidery or a tiny initial), as well as the Peter pan collar and sleeve bands. Made of soft cotton with an inverted front pleat, full length back placket & easy off cover pants so comfort & ease of dressing are guaranteed. Pattern includes a box pleat straight sleeve for the little Master and a dainty puff sleeve for the wee Miss, making this darling diaper set the perfect summer attire for baby, even if it must be stored in grandma's hope chest in anticipation!
In this two day class students learn how to create a menagerie of pocket pals using stabilizers to simplify pocket construction, how to shape prepared rouleau for yoke, 4 ways to attach rouleau to fabric (traditional, plus Debbie's method for covering a wrapped seam, binding a trimmed stabilized edge & an alternative w/ no hand sewing), how to trim rouleau with lace, and secure pockets & rouleau w/ invisible stitches, as well as perfect inverted box pleats.
2011 Debbie Glenn School
Join Debbie for 4 days of machine magic and learn some of her unique fine machine finishes. Class time concentrates on mastery of new techniques. Students make reference samples prior to beginning garment construction. Confidence gained making samples leads to successful completion of class projects as well as the incorporation of the new techniques into future projects.
Thursday & Friday: Heirloom Garden
(12 hrs, Fine Machine Sewing, Advanced)
*Prior lace shaping & gathering experience is required.
Heirloom princess, please confess…..how does your garden grow?
With flowers of lace, it's a pretty place, where everyone wants to go….
Leave it to Debbie to transform simple lace edging into an heirloom garden blooming with applique cord poises and ruched buds. There's no need to watch out for the bumble buzzing about, as he's just a pouf of lace insertion with wings of entredeux. Storybook magic abounds… as this pinafore set is actually a one piece color blocked dolman sleeve yoke dress with a modified neckline and ruffles inserted into the princess seams (available in sizes 2T-5). As expected with all things heirloom, lace trims the pinafore's square neckline, flip flop tucked bib, self fabric ruffles, and hem, as well as the bias sleeve cuff of the under dress. It's even used for the skirt placket. Join Debbie for two days of machine magic and create a special floral lace garden for your little heirloom princess!
Techniques: Re-drafting neckline, drafting ruffles, color blocking, ruching insertion & edging, shaping gathered lace, using appliqué cord to attach lace edging & delineate design lines (wings & stems), flip flop tucks, lace placket, quick & easy inserted lace hem
Saturday & Sunday: Angelique
(12 hrs, Fine Machine Sewing, Advanced)
*Prior lace shaping & gathering experience is required.
Angels are blessed gifts from Heaven above,
Touching our hearts with their sweetness & love…
This sweet, but simple French inspired linen confection is the definition of angelic. Tiny robin's egg blue granitos accent the delicate corded satin stitched scallops on the yoke and are literally sprinkled all over the underskirt, like stardust dropped down from heaven. Fine corded scallops repeat on the bottom of the elaborately shaped skirt overlay and belt carriers laced with luscious silk satin ribbon. From padding to cover stitch when it comes to recreating hand worked satin stitched edges and granitos by machine, Debbie's perfected the technique. It's truly a case where it's important to use the right ingredients (needle, thread, stabilizers, & padding material) is a must.

In this two day class Debbie shares her favorite recipe for scallops which includes satin stitching over a prepared cut edge to eliminate the nicked stitches (from trimming to close) or fabric fuzzies (from not trimming close enough) often found on hand worked edges. Students learn how to accurately transfer the design line to stabilized fabric using a circle template, apply padding cord to prepare scallops, trim, add a water soluble base, stitch using proper pivot positions, and ways to erase mistakes, plus her infamous 15 second machine granito, 2 French seams (tiny roll and whip and wrapped French seam which reduces bulk in gathered areas) and tips to improve your continuous bound placket. Students gain confidence making reference samples, then begin creating an equally sweet size 2T- 5 confection for their little angel.
*Those under time constraints wishing to simplify the project may eliminate granitos on the underskirt by substituting purchased colored linen & bringing matching 50-60 wt. cotton machine embroidery thread (for yoke granitos & scallops).
Techniques: Recreating fine corded scallops & granitos by machine, tiny French seam, continuous bound placket, drafting scalloped edges & shaped overskirts